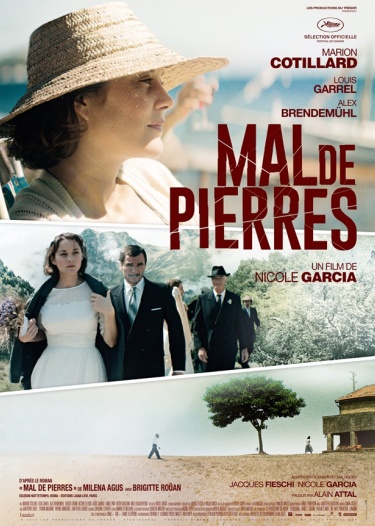 Mal de Pierres (aka From the Land of the Moon) (2016)
release date: October 19th, 2016
production company: Les Productions du Trésor, Studio Canal, France 3 Cinéma, Pauline's Angel

Directed by Nicole Garcia
Screenplay by Nicole Garcia, Jacques Fieschi & Natalie Carter
Based on the Novel by Milena Agus

Music Composed and Produced by Daniel Pemberton
Orchestra Conducted by Andrew Skeet
Orchestrated by Andrew Skeet & Nathan W. Klein
Performed by The Chamber Orchestra of London
Recorded by Matt Bartram
Recorded at Angel Studios, London, UK
ProTools Chris Parker
Additional Recordings Performed by L'Orchestre SBO Music
Recoded by Lewis Jones
ProTools Florent Berthier
Mixed by Lewis Jones
Mixed at Abbey Road Studios, London, UK
Assistant Score Engineer Lewis Jones
Music Supervisor Emmanuel Ferrier

Synopsis
Gabrielle comes from a small village in the South of France, at a time when her dream of true love is considered scandalous, and even a sign of insanity. Her parents marry her to José, an honest and loving Spanish farm worker who they think will make a respectable woman of her. Despite José's devotion to her, Gabrielle vows that she will never love José and lives like a prisoner bound by the constraints of conventional post-World War II society until the day she is sent away to a cure in the Alps to heal her kidney stones. There she meets André Sauvage, a dashing injured veteran of the Indochinese War, who rekindles the passion buried inside her. She promises they will run away together, and André seems to share her desire. Will anyone dare rob her of her right to follow her dreams?
Total Time: 38:39
01. 26 Rue Commines, Lyon (1:58)
02. La Fuite (1:24)
03. Gabrielle (1:21)
04. Un Nouveau Depart (1:31)
05. La Cure (L'Arrivee) (1:33)
06. Sexe (I) (1:45)
07. La Foret (1:49)
08. Sur la Route (I) (1:26)
09. Les Soins (0:52)
10. La Separation (2:17)
11. Fin de la Cure (1:53)
12. Sexe (II) (1:43)
13. La Cure (Le Depart) (1:53)
14. Les Lettres (2:23)
15. Retour a Lyon (2:14)
16. Sur la Route (II) (2:25)
17. Une Autre Realite (3:10)
18. Memoires Incertaines (2:54)
19. Une Nouvelle Vie (4:08)