Desperate Romantics (2009)
release date: July 21st, 2009
production company: BBC

Directed by Paul Gay & Diarmuid Lawrence
Screenplay by Peter Bowker & Franny Moyle

Music Composed and Produced by Daniel Pemberton
Orchestrated and Conducted by Andrew Skeet
Recorded at Abbey Road Studios, London, UK

Synopsis
With a glossy look and a driving contemporary soundtrack, Desperate Romantics is a character-driven romp through the alleyways, studios, brothels and chop-houses of 19th century London. In 1851, London is in the throes of the industrial revolution. But among the dirty red bricks and smoke stacks are four young, thrill-seeking artists - steadfast William Holman Hunt (Rafe Spall, Hot Fuzz, Bram Stoker's Dracula), naive John Millais (Samuel Barnett, John Adams, The History Boys), mischievous Dante Gabriel Rossetti (Aidan Turner, Being Human) and budding journalist Fred Walters (Sam Crane, Midsomer Murders) - otherwise known as the Brotherhood. Their quest for artistic immortality takes them into some of the lewdest, darkest and funniest corners of the city. Joining them is sassy, sexy model Lizzie Siddal (Amy Manson, Being Human, Casualty). But is she risking it all with this dangerous bunch?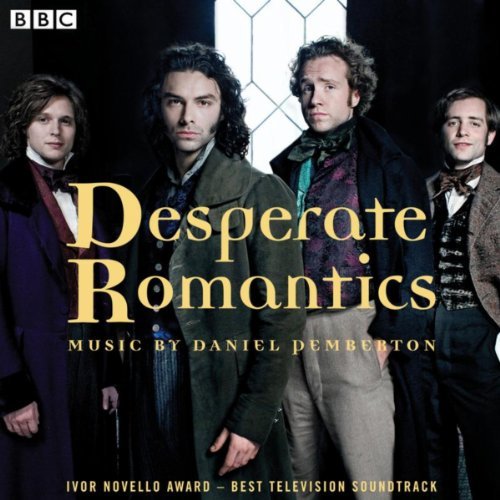 Total Time: 57:38
01. Desperate Romantics (1:53)
02. Fred's Theme (0:43)
03. Christ In the House of His Parents (1:57)
04. Disco Divertimento Duo (2:26)
05. The Order of Release (1:33)
06. Fantasy of Ophelia (1:23)
07. She Might Be Dead (1:31)
08. Fred's Proposal (2:01)
09. The Beautiful People (1:39)
10. We Are the Brotherhood (2:16)
11. Critical Analysis (2:58)
12. Ruskin's Patronage (2:39)
13. Acting On Desires (2:21)
14. The Awakening of Lizzie Siddal (2:29)
15. New Beginnings (2:08)
16. A Few Words (1:57)
17. The Boy's a Genius (1:24)
18. Lord Rosterley, the Well Known Rake (1:53)
19. Must Stop Fred (1:23)
20. A Promise (3:09)
21. Misery and Regret (2:34)
22. Heartbroken and Spurned (2:31)
23. Take a Laudanum Trip (3:07)
24. Beata Beatrix (2:27)
25. The Funeral (3:49)
26. The Burial (2:01)
27. Without Her - The End (1:26)